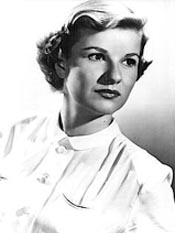 Barbara Bel Geddes is best remembered as Miss Ellie, the Ewing family matriarch on the long-running TV series "Dallas, " but the actress scored success on stage and screen long before she found fame on television. Born in New York City on Halloween Day 1922, the actress was the daughter of noted theatrical and industrial designer Norman Bel Geddes, who staged more than 200 plays. After growing up in the midst of the theatre, Barbara Bel Geddes began acting on stage at age 18 and soon moved on to Broadway. The silver screen also beckoned, and she made her film debut in "The Long Night" (1947). She was quickly labeled a star, gracing the cover of Life magazine on April 12, 1948. Her third motion picture, "I Remember Mama" (1948), garnered Bel Geddes an Academy Award nomination for Best Supporting Actress. Other notable films starring Bel Geddes include "Panic in the Streets" (1950) directed by Elia Kazan; Alfred Hitchcock's classic mystery thriller "Vertigo" (1958); and "The Five Pennies" (1959) opposite Danny Kaye. Though she achieved immediate success in films, Bel Geddes also continued to tread the boards on Broadway, as the theatre was her first love. In 1952, she received the prestigious Woman of the Year Award by Hasty Pudding Theatricals USA, America's oldest theater company. She was nominated for Tony Awards as Best Dramatic Actress for "Cat on a Hot Tin Roof" in 1956 and "Mary, Mary" in 1961. Bel Geddes made several TV appearances on the series "Alfred Hitchcock Presents" and other programs in the mid-'50s, but her greatest television role came as Miss Ellie Ewing Farlow on "Dallas", which enjoyed a run of 13 years (1978-1991). She won the Emmy Award for Best Actress in 1980 and was nominated in the same category in 1979 and 1981. Bel Geddes left the show for health reasons during the 1984-85 season, and actress Donna Reed took over the role of Miss Ellie. Bel Geddes returned for the 1985-86 season and continued on "Dallas" until 1990, when she effectively retired from acting. She did not appear in either of the two "Dallas" reunion TV movies.


Updates
8-3-04- Added me as the first member!!!
8-14-04- Added Susan as a member!! Welcome Susan!!!
9-04-04- Added Michelle as a member!! Welcome Michelle!!!
10-4-04- Added Ameera as a member!! Welcome Ameera!!
3-01-05- No new members!
August 28, 2005- No new members!